Dominika: The Women's Strike Protesters Are On The Right Side Of History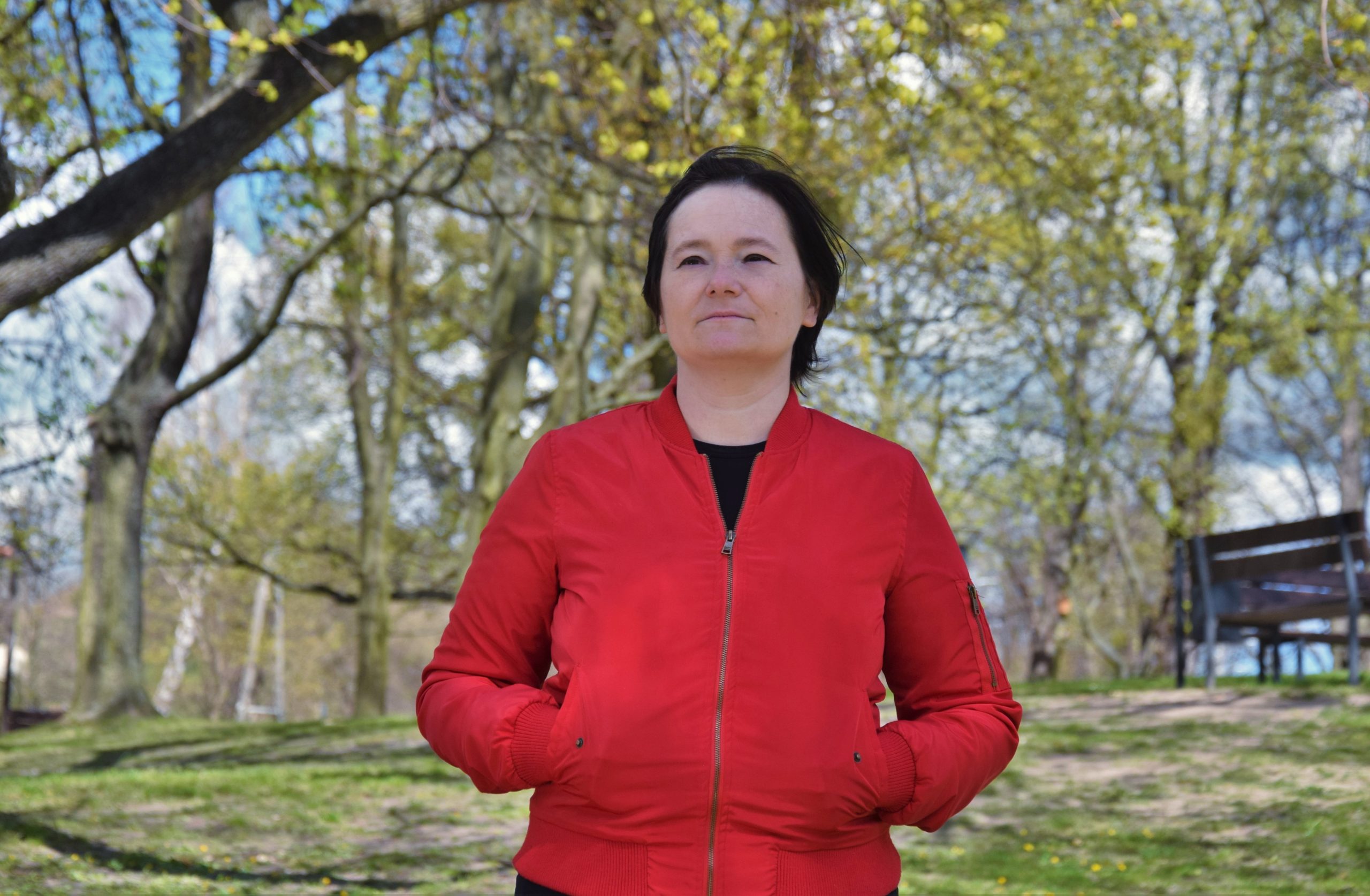 Dominika is the leader of the Women's Strike in a small city in the North Easterly part of Poland. Dominika started out locally, but now works for the Women's Strike Foundation; the "central helpdesk" for activists in the field. She has been embedded in the Strike movement from its inception in 2016, and is now part of the Women's Strike strategic group, as well as being a board member. As a PR specialist and journalist, she helps organise external and internal communications. She coordinates the international campaign, translates interviews, and runs the Strike's Instagram page.
The activist has a suitcase packed so she can be ready at a moment's notice for a board meeting, training, or to help organise a protest in Warsaw.
"I feel co-responsible for the foundation and the entire movement, I can't imagine not being there when something important happens. Being elected to the board has its consequences. We are targeted, not only by our opponents, but also by the police. But I know that I am needed and my contributions are valued. We must support each other," says Dominika.
At first, the activist was based locally, organising events and protests as part of the national movement but she also travelled to protests in Warsaw and other cities.
"I felt a bit like a guest performer. I didn't push to help, I thought they didn't need it initially," she says.
That all changed in September last year when Strike leaders set up an office in Warsaw: "I was ecstatic. I didn't really have anyone locally who was as determined as I was and I knew I could do more from the national headquarters. I went to Warsaw to help with the preparation and my heart stayed there. I have a mattress, sleeping bag, toothbrush and clothes to change into. It's already my second home."
The Price Of Activism In A Small Town
On October 3, 2016 Dominika joined thousands of other activists across Warsaw in what became known as 'the Black Protest'. This spearheaded the Women's Strike movement across Poland. In her hometown, dozens of people gathered in solidarity prompting the start of ongoing local protests, all organised by Dominika.
After the initial 'Black Protest', participants were subjected to abuse online and in the local media. The headmistress of the school where the activist worked was attacked for her participation in the protest, but also for "supporting and condoning Dominika's activism".
As a teacher, Dominika has since become the target of virulent, unrelenting attacks. Letters and complaints were sent to the school's board of trustees. The accusations were vast. They claimed she corrupts students and that her behaviour insults the dignity of the teaching profession. Some of the letters were signed by local right-wing politicians, and some by parents who simply didn't like the teacher's "extracurricular" activities.
"The board of trustees never found any fault with my work but the atmosphere became heavy. I didn't get much support from my colleagues and I was talked about behind my back. Thankfully, I was supported by the students and some of the parents."
In 2018, Dominika changed jobs to head up the local branch of a national radio station. The abuse stirred up by local right-wing politicians subsided for a while, only because it was in their interest to be on the airwaves. But Dominika ultimately had to choose between activism and working for a company where she was required to remain impartial. She chose the Strike and returned to working as a teacher for a year. Her contract wasn't renewed because of the pandemic but the activist didn't think she would have much of an issue getting a new job as English teachers with her credentials are hard to find. It turns out she was wrong.
"Local media and online forums were full of false information about me being fired from my job, about the disciplinary actions I supposedly had, about what a hopeless teacher I was. These lies were spread by nationalists. I was unemployed for several months for the first time in my life. I had some savings, but I had to use them to support myself and my family," she says.
Dominika registered as unemployed in July 2020. A month later, alongside other local activists, she organised a 'rainbow' protest to express solidarity with activists from the LGBTQI+ community. This colourful outing was the first of its kind in her city and was attended by scores of young people. But as expected, counter-protesters also showed up. Wearing balaclavas, they chucked firecrackers, tore down banners, and terrorised residents, chasing children down the streets. Even though they had been tipped off, the police reacted too late enabling the instigators to get away. After this incident, right-ring nationalists began to target the Dominika at her home.
"I live along the most popular walking route in the city centre. I used the fence to hang banners I had prepared with my children supporting the LGBTQI+ community. I also turned the window facing the street into an exhibition space with positive slogans," Dominika says.
But within days, the banners were all destroyed or stolen.
"A car would drive up, someone in a mask would jump out, cut the banner off, take it and disappear. My family were worried that they would break a window, or worse, get into the house. One day a man threw a full beer bottle at my dad standing at the gate. Fortunately, he missed," the activist says she eventually stopped putting banners up.
Dominika was once again subjected to an outpouring of vitriol online, aimed exclusively at her: "The Nazis took pictures of me shouting and made nasty memes from them. It didn't hurt me because I know my worth. A local lawyer told me I could sue them for violating my personal rights."
"Dominika says the trolls aren't particularly innovative with their insults: "I read that I'm ugly, fat, neglected, unattractive, old. They call me stupid, vulgar or boorish. Sometimes they write that I'm a slut, whore, or militant feminist who nobody wants or that I'm a bad mother because instead of minding my children, I protest with other crazy women like me. They say I was fired for being a bad teacher and I corrupt young people."
The activist explains that she has never responded because she wouldn't stoop to their level: "You cannot give neo-fascists a platform, they need to be marginalised from the media."
"The protests in my city are nothing compared to Warsaw, but in a strange way, the responsibility as a local leader was greater because I was doing it alone. The police may have stopped being nice to us but they didn't club us and gas us, or lock us up or beat us like they do in Warsaw," she says.
It was at the Warsaw demonstrations where the activist first experienced the full extent of police brutality: "I was gassed in the face, clubbed over the back, squeezed into tight cells and violently yanked. I cut my hair to make it easier to wash out the gas. But I did what I had to do. I shouted into the megaphone, I substituted for Strike leaders, and I did live reports. I ran away when the police charged at us. I was holding a banner several metres long as I jumped over fences," the activist recalls.
In November, the number of participants at her local protests dwindled.
"Young people were having problems in school and parents were banning them from participating. Coverage from Warsaw protests made people afraid. Everyone knew I was being targeted by the police, intimidated by Nazis and football fans. This was no longer fun. It was getting scary and dangerous. So, I was alone.," the activist says.
The smear campaign also began to take a toll on those closest to her: "I was protesting non-stop. I networked with activists across Poland. I had zoom meetings, I didn't eat, sleep or rest. I asked friends and relatives not to read what was written online, and especially not to send anything on. It was relentless. I was attacked for having my older children with me at protests, even though they wanted to be there. Being on social welfare was also used against me with slogans like "Get some honest work, you nasty old fool."
"I am most afraid for the safety of my loved ones. Everyone knows where we live and I don't feel safe."
In response to the protests, nationalists shared Dominika's address and encouraged people to destroy her home and physically attack Dominika and her family.  The outside of her house was splattered with blood-red paint.
"I brought my youngest daughter to a safe place and called the police. I stayed at home with my two teenage children. I refused to be intimidated, so at the time they were allegedly coming, I went outside in the dark and did a live report. A lot of friends stayed around my street during the evening. They were guarding my house as they were terrified something would happen to us," Dominika says.
The attack attracted national media attention which means the activist is no longer anonymous.
A few months later, in May 2021, the police concluded their investigation into the attack on the activist's house stating "the destruction of property did not take place". At the same time, Dominika received summonses for five "outstanding" charges for protests she had organised. The activist appealed the sentencing, which was issued in absentia. Although the fine for organising "illegal" gatherings is low, Polish activists refuse to accept the verdicts since "under the Constitution they have the right to protest".
She now faces a different charge in each case, so the court can't combine the proceedings. This is designed to ensure she spends as much time in and out of the court as possible to try and put her off organising any more protests.
"It is precisely this repression that motivates me even more," the activist says.
There are currently nine cases pending against Dominika, three of them for simply placing stickers around the city. The activist is convinced that the order came from the top: "It's not a coincidence that all these issues appeared just as I became a Women's Strike board member."
The Ostrich In The Sand Approach Costs Too Much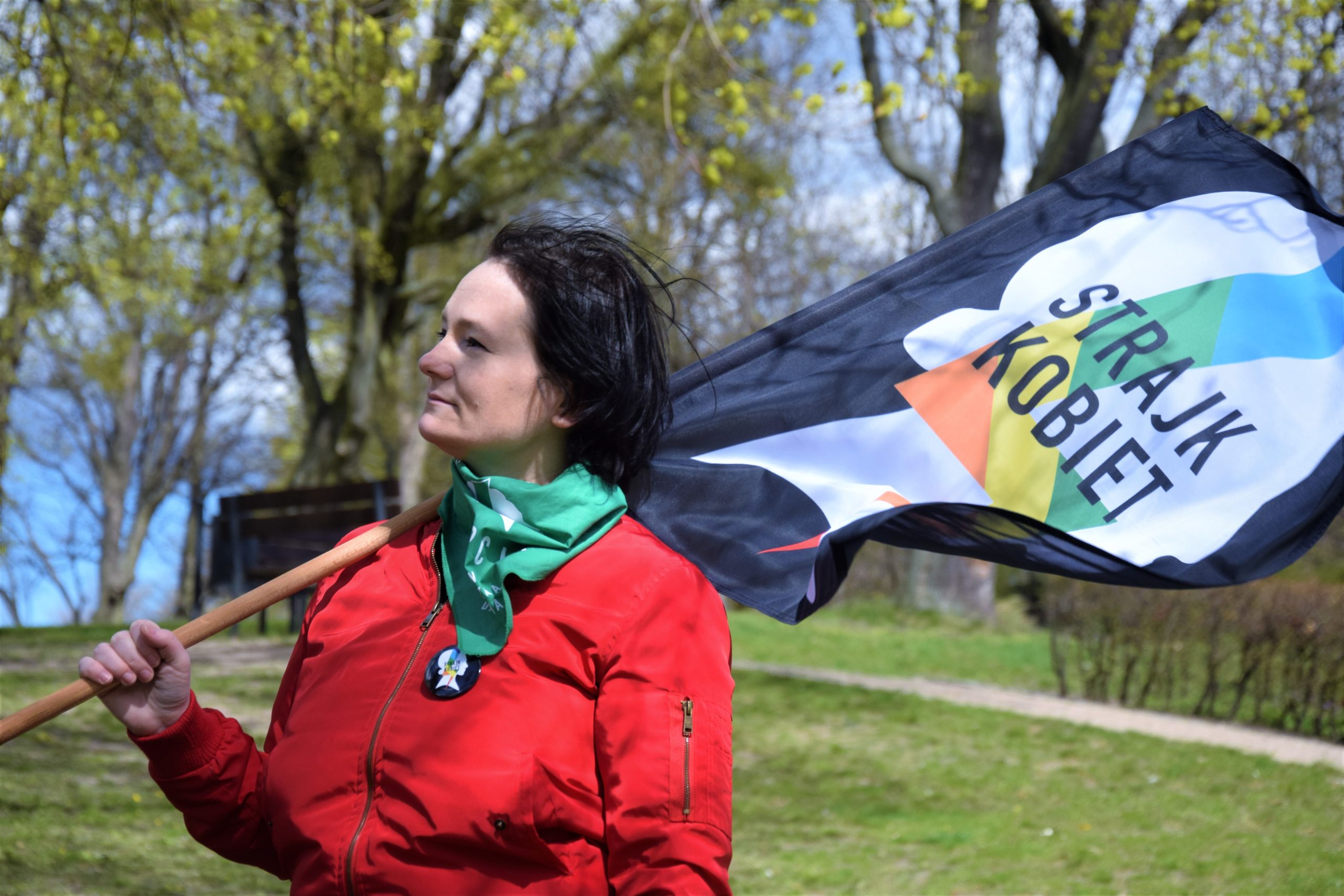 The activist says she never expected to hold the Strike torch alone.
"I get annoyed by 'couch activists'; those who talk about taking to the streets and how we should conduct the protests but aren't willing to commit. They wouldn't even put up strike posters. I hung them up alone with my kids," Dominika recalls.
Several of the 'couch activists' appeared at the protests organised by Dominika, hidden in the back. Some people who came to 'help' often just wanted to promote their involvement on social media and actually caused more harm than good. Others simply disappeared when the police became heavy handed and she had to manage alone. There were also those who wanted to be useful, but couldn't cope with the crowds.
"I understand some friends can't advertise their ties with me for various reasons. They are scared of the consequences and don't want to have similar problems at work or family conflicts. But this doesn't change how lonely it can be for me," says Dominika.
Dominika has Post-Traumatic Stress Disorder and is still struggling with the effects of Covid, which she contracted last December. Her recovery was slow but enabled her to re-evaluate her priorities. Dominika says she no longer seeks approval from those around her and never will.
"I do what I do with the full knowledge that it alienates me. If someone sees a photo of me in a balaclava holding a flare gun, and labels me a terrorist, instead of remembering who I am as a person, then I have nothing to say to them. We are here fighting for human rights, we are on the good, bright side of power. I don't know how to not react. Burying my head in the sand costs me too much."
Dominika says that activism gives her more than it takes away:
"Despite the enormous costs, I can no longer imagine life without the Strike or without those I've met through the movement."
Before the Strike, Dominika's greatest passion in life was music. "I was looking for my path, a new plan for life. I ended up in radio. But I dropped everything to protest. Activism won out over everything. I don't even know when the Strike became my life. But it has. Apart from my children, the Strike is the most important thing to me," she says.
Dominika hates it when people assume that the Women's Strike is over. Dominika forms part of the backbone of the movement and they are working full steam ahead, quietly, without fanfare. They hold trainings, they plan and strategize so that they can come back as the largest, most well-managed and efficient activism platform in the country.
"We still have so much to do but it inspires me. We have a lot of things to deal with before the next wave comes. The movement has grown, so we too must grow organisationally. And, crucially, we must take care of the people involved. They are the most important part of the Women's Strike."
Stories by Dominika Kasprowicz. English version edited by Dearbhla Crosse.
Photography by Pamela Palma Zapata.