Katarzyna: Krakow's Unrelenting Activist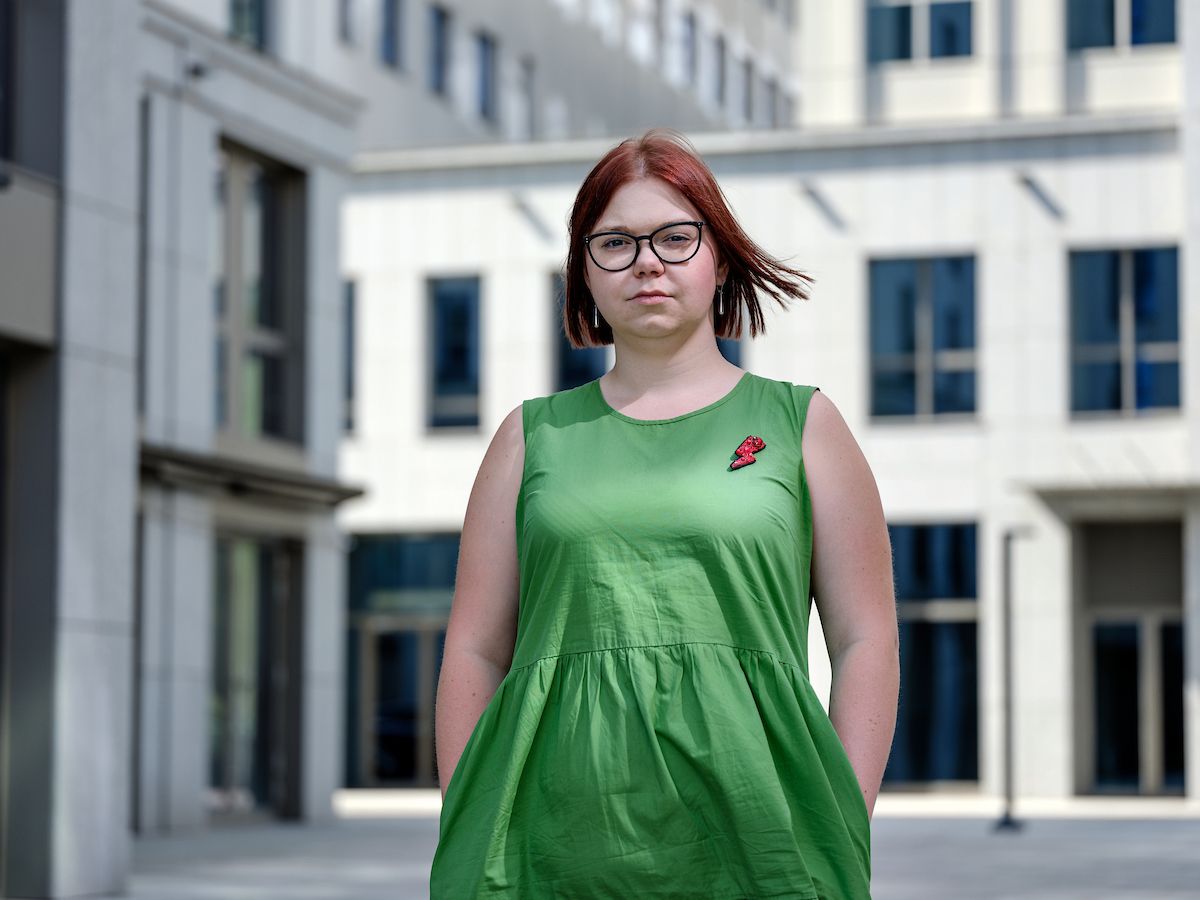 "When I see thousands in the streets, and even the smaller rallies, fighting for their rights, I feel I contributed to that. History is taking place. What is happening now will have an impact on future generations, on the law, on our country. And to take part in it is beautiful."
Katarzyna is petite with childlike beauty and the characteristic hoarse voice of a mature woman, she is also one of the most prolific and celebrated activists within the Women's Strike movement across Poland. A cursory glance at the media reports and Internet commentary paints an intriguing picture of Katarzyna as sassy, loud, bold and uncompromising, as well as stubborn, complicated, hot-headed and wild. The activist lives in Krakow, but works across the region and organises local coordinators throughout the region. She has been active since the first Krakow meeting on October 3, 2016.
It was Katarzyna who asked President Andrzej Duda about why he constantly ignores the constitution and on December 18, 2016, alongside others, she blocked PiS Leader Jaroslaw Kaczyński and his cabinet from entering Wawel castle. The move drew national attention to Kaczyński's attempts at preventing the media from freely reporting from within Parliament. In this instance, the official case brought against her was for obstructing traffic, but she was acquitted.
The rallies she organised started small, with only a few dozen protestors attending but built up to a movement amassing hundreds of thousands of people. There are now five pending allegations, including for disturbing the peace and for using profanities in a public space. She says these are all " just misdemeanours." However, she is also being charged with the more serious offence of organising illegal protests. A new law was passed last year making it illegal to organise protests during a pandemic, which means the government can charge those organising and participating in demonstrations with endangering lives. These cases are handled by the public prosecutor's office and the charges have not been dropped. She continues to receive further summons, letters and fines. Of course, there will be more charges and more cases.
"She Caused Trouble So She Got What She Deserved"
This is just one of the comments – and the more delicate ones – that you can read on the Internet about those involved in the Women's Strike in Krakow, of which Katarzyna is the undisputed leader. The activist frequently faces harsh criticism, particularly amongst so-called "friends". This is also true of the 'couch activists'; those who don't protest, even for a just cause because it seems too radical.
"The most annoying thing is when people say "Why aren't you doing anything? Let's do something", the activist says. "It obviously means that the Women's Strike Kraków have to do it."
This is something that activists all over Poland talk about.  When it comes down to it, too few people are actually willing to "take action". In Krakow, for a long time the movement's core was made up of dynamic duo, Katarzyna and Magda. Only three others joined them from a city with nearly 770,000 inhabitants.
"We do what we can. We kill ourselves at our computers, driving around, running to protests. I hate the never-ending complaints that we're not doing enough or that we did something wrong. I haven't finished my "how to protest" studies, it is not my job, I do it as best I can. There are a lot of people criticizing with not much to do."
Especially since the Strike activists pay a hefty price for their activities.
"Whores, Baby Killers, Mad Feminist Cows"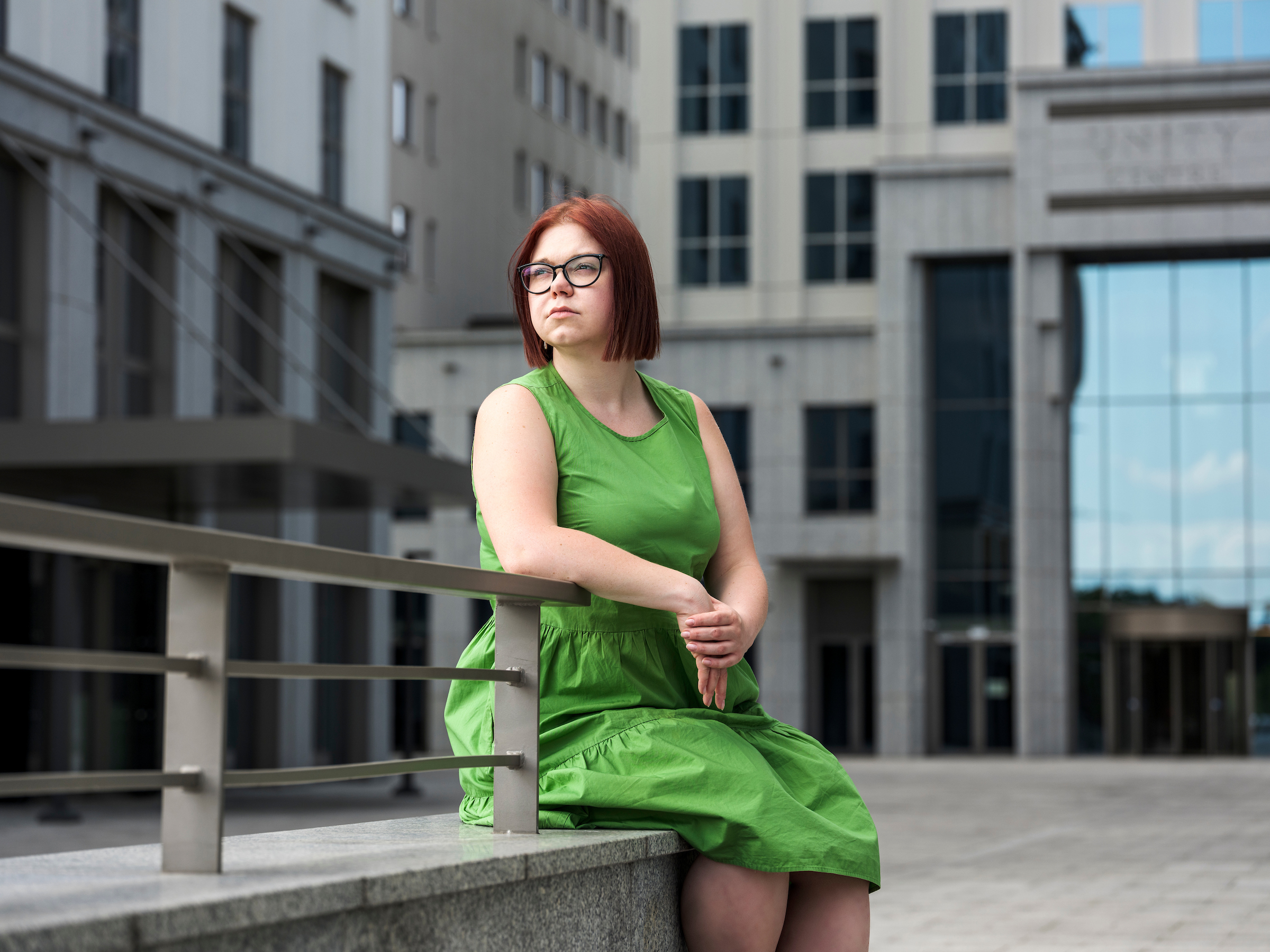 Critical comments from allies can be really damaging, but this is nothing compared to what opponents write about the Women's Strike activists. Internet haters don't mince their words. Participants and protest organisers are faced with disgusting insults, every aspect of their lives commented on.
"I received the greatest number of threats after the Wawel Castle blockade and my interaction with President Duda. I even reported the abuse to the police but the case was dropped. I also received threats in the mail, which means my address is out there, " she says.
Attacks on activists – verbal and physical – happen beyond the peaceful demonstrations:
"I get abused in the street a lot for wearing a Women's Strike badge. I wear a lightning bolt mask every day and people have verbally abused me."
"If The Goat Didn't Jump, She Wouldn't Have Broken Her Leg" – Polish Proverb
On May 6, 2018, Katarzyna went with a group of activists to protest a neo-fascist march. Her arm was broken during the blockade. But not by the Nazis, by a police officer: "I was lucky, the fracture was healed quickly. My friend had to have several surgeries and her arm is still not fully functional."
The police charged the participants of the counter-demonstration with disrupting a legal gathering, even though the police actually ended the fascist rally themselves because of attacks and destruction of property. The activists won the court case. This time.
But it was not the first act of physical violence. Pushing, yanking, pulling, twisting hands, lifting, squeezing, throwing, pressing against the ground. Aggressive behaviour by the police is an everyday occurrence for activists in large cities. Places where thousands take to the streets and crowd aggression quickly escalates.
"I have been written up thousands of times in many cities and towns across Poland. In Krakow, the police greet me by name. Although, it is a subtle form of bullying," the activist says.
"Clenched Teeth And Restraint"
The activist claims that she copes with the aggression, that she "never forgets her tongue" but when she was a child, she would mouth off, stick out her middle finger or yell profanities. But it is impossible to wage war day in and day out, without breaking. There is inevitably moments of numbness, fatigue, and depression. When the Women's Strike movement was intensifying in the Autumn of 2020, Katarzyna showed signs of burnout and she withdrew. But not for long. She resumed organising protests, answering phone calls, messages, helping and advising. Only now, years later, does she even begin to unpack the emotional and physical costs incurred through activism.
"Activism is difficult. My interpersonal relationships suffered, and I lost most of my friends who were not involved. Contact with family was difficult. Especially at times when I was flooded with hatred. I haven't had a relationship since 2016. I just don't have time. There is always something to be done, and you need to invest time in a relationship. And then you don't know if anything will come of it anyway. So I prefer to deal with organising protests. Plus, it's hard to meet new people outside of this as the topic inevitably turns to politics. And even if someone agrees with me, it's hard to understand that I'm still living it. So, for now, I focus on friends in the movement."
Katarzyna's family generally supports her activities, but there are also questions and reservations: "For a long time, after Wawel Castle and my altercation with President Duda, I stayed away from the media and spoke without giving my name. My parents were worried about me. So I did it to protect them."
The bone of contention in the family is conflicting attitudes towards the Catholic Church:
"My parents, especially my dad, are religious. I respect that, but I think you can believe without being a member of the Catholic Church."
Katarzyna works as a medical registrar but she quit her studies because of the Strike movement: "I have to work to live. I have to strike because of what I feel in my heart. So I dropped my studies."
Literally. Katarzyna, as one of the few Strike activists speaks publicly about the financial problems and costs incurred in connection with the movement. Neither she nor Magda thought about costs when starting Women's Strike activities in Krakow.
"When my pockets were empty, I took out loans. Action seemed more important than money. But then they had to be repaid so financially I struggled. Even though I have already repaid a large part, I still have debt that I pay back incrementally. But so far I'm in arrears so I can forget about a mortgage," Katarzyna says.
Over the course of five years, the Strike grew bigger. Funds are now available from a national pool for local protests. Katarzyna fell into the beginner's trap and didn't keep receipts for "strike" purchases. But even activists who use the current Strike refund system bear additional, hidden costs that go unaccounted for: "Not many people talk about it, but day-to-day activities carry considerable costs. Although we can settle transport and equipment, I travel to support local activists.  I often don't have time to make sandwiches so I buy them on the go. Ready-made food is much more expensive."
On 22 October 2020, the Polish court pushed through a judgement rejecting abortion on the grounds of foetal abnormality.
"From then until mid-December, I didn't cook a single meal. I simply did not have time. I was home very late in the evenings and would finish up online at night, and get up for work around 6 am. It was exhausting – physically, mentally, but also financially. One time, a friend of mine living in Germany even ordered me food. In other cases, I bought what I could, where I could, on the fly. I live alone with no support. No one will buy, cook or clean me for me. I pay for everything myself so there are times when it is really hard," she says.
Katarzyna is clinging to her current job, even though she earns very little. "Obviously I would like to earn more but I'm worried I won't find another employer so accepting of what I do."
Bearing in mind the problems other female activists have with finding or keeping a job, she may not be able to find another job at all.
"In The Name Of F***ing Rules"
This is Katarzyna's classic answer to the question of why she continues within the Strike movement: "My moral code forces me to act. If I see something wrong – act. Whether it is about changing the law or collecting garbage in the forest. I am not shouting for someone else to do it. I try to help, arrange it, embrace it, support it."
The activist admits that while helping others, she forgets about her own needs: "It takes energy to help others but if I had to do it all again, I would. I am acting in harmony with myself and despite the adversity, I am happy. My life is fuller and I have purpose. What I do is important for so many. They are not alone.
"When I see thousands in the streets, and even the smaller rallies, fighting for their rights, I feel I contributed to that. History is taking place. What is happening now will have an impact on future generations, on the law, on our country. And to take part in it is beautiful."
Stories by Dominika Kasprowicz. English version edited by Dearbhla Crosse.
Photography by Mateusz Torbus.