Dorota: Women Are The Force That Will Change This Country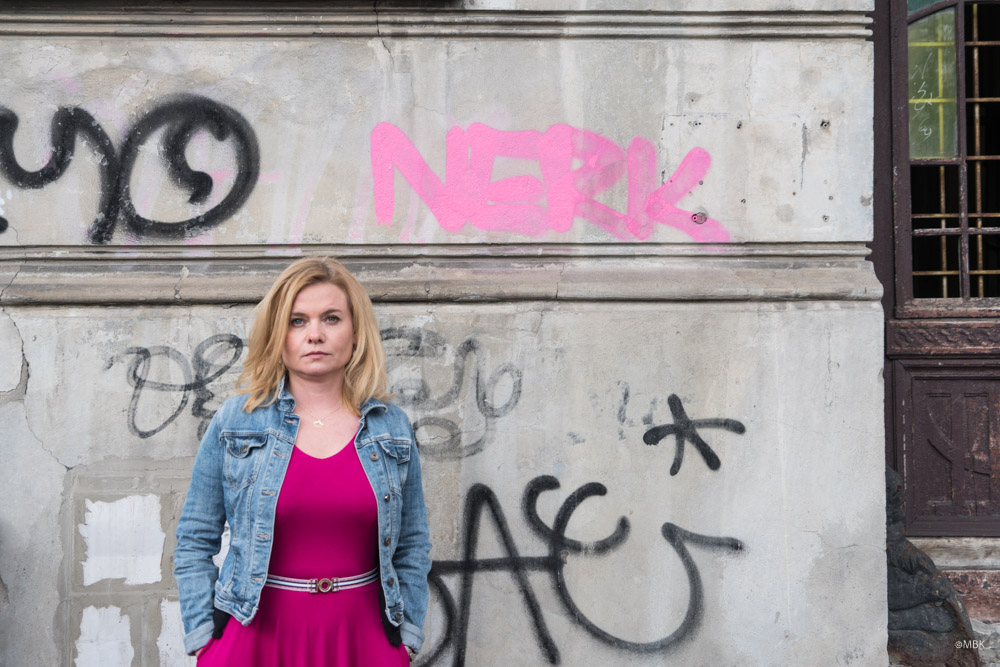 Dorota's name in Poland is synonymous with the fight for good education. And, at this stage, she is a strong personal brand. Perhaps the average Joe doesn't associate Dorota with black clothes, war painted cheeks, blazing flares, expletives roaring from a protest bus, and everything else that springs to mind when hearing the slogan 'Women's Strike'. But she is an important activist in this unique women's movement. When she appears in public in colourful dresses or elegant suits, often with rainbow-coloured accents, she always wears a badge with the 'Women's Strike' logo.
This is significant and symbolic, as Dorota co-founded the movement from the very beginning. Since 2016, she has participated in most of the demonstrations organised by the Women's Strike in Warsaw and since October 2020, she has been a member of the Women's Strike Consultative Council, moderating the team on education issues. Under her supervision, the team develops the education demands that were collated during the autumn protests. She cooperated with the Women's Strike over protests against the current PiS government's education reforms. These "reforms" have been designed to indoctrinate children with the aim to create a conservative, homogenous society.
"Teachers would become political tools without the power to challenge the curriculum. There has already been so much damage to the public school system, activists say it will take years to rebuild it. And they're just getting started.
If the opposition parties ever took over the current PiS government in Poland, Dorota would undoubtedly claim a top ministerial position. Her knowledge, preparation and expertise are renowned. Dorota has worked hard for her position in recent years, doing things from the bottom up and "against the tide". Locally and partisan without the financial backing from a political party, without a political background, without experience. Between 2016 and 2017, she organised more than a dozen demonstrations against the PiS government's education reform. The committee she co-chaired collected almost a million signatures for a referendum on stopping the education "reform". In March 2017, she rallied crowds of parents, teachers, students and organised a strike under the slogan "Parents Against Education Reform". The fight for women's rights, for human rights, for equality, for the rule of law, for quality in education, and for the secularity of the state are all intertwined in her strike DNA.
The colourful, rainbow elements incorporated into her outfits are not by chance. They are intentional components of a carefully curated image. Yet, in her case it is also a matter of ethos. The activist leads the nationwide equality ranking of LGBTQIA+ friendly schools. And she is one of the community's best-known allies.
Where There's A Will, There's A Way
Dorota is known for planning and executing her plans methodically, patiently and relentlessly. She is consistent and tough. Concrete and assertive. At one point she decided that it was impossible to achieve certain goals without entering politics, so she entered local government. In 2018, she became a Warsaw City Councillor. She wanted to change Warsaw's education system and implement specific ideas. Within the Council she is the chairwoman of the Education Committee and is also the president of the foundation "Parents have a voice" created off the back of a social movement. She takes the same "task-oriented" approach to her work in the Consultative Council at the Women's Strike. The team under her leadership has developed a comprehensive and multi-faceted report on the state of Polish education. Dorota will begin implementing solutions to the most pressing problems one by one.  She just needs time and the right opportunity.
Publicly highlighting her connection to the Women's Strike did not leave the activist without consequences.
"She became the target of massive attacks online and in the media; the daily bread of striking women activists all over Poland. She was subjected to social media abuse, threats, taunts and attacks - not only virtually but also in person.
Dorota regularly receives abusive, offensive messages; she is also one of the activists who began receiving death threats via e-mail at the start of 2021.
"The messages included photos of her with her head placed on a target alongside the caption "Die" or with her face drenched in blood.
There were also bomb threats made in the emails, as well as the emotional blackmail demanding that Dorota stop supporting the Women's Strike. She took these threats seriously and reported the matter to the police.
Dorota is sensible, composed, and soberly assesses situations. She is able to keep a cool head in moments of crisis, but she is also acutely aware of how much the threshold of social sensitivity and acceptance for violence, including institutional violence, has shifted. That is why she doesn't underestimate the danger. She is cautious and tries to minimise the risk. Her family is "pre-trained" when it comes to safety. Especially since the line between destruction of property and physical attack is a thin one. Property belonging to Dorota, her family and business partner are destroyed quite regularly and systematically. Strike symbols, accessories and "insignia" were ripped off her car outside the building in which she and her friend run their nursery school.
Councillor Dorota's Abortionist Nursery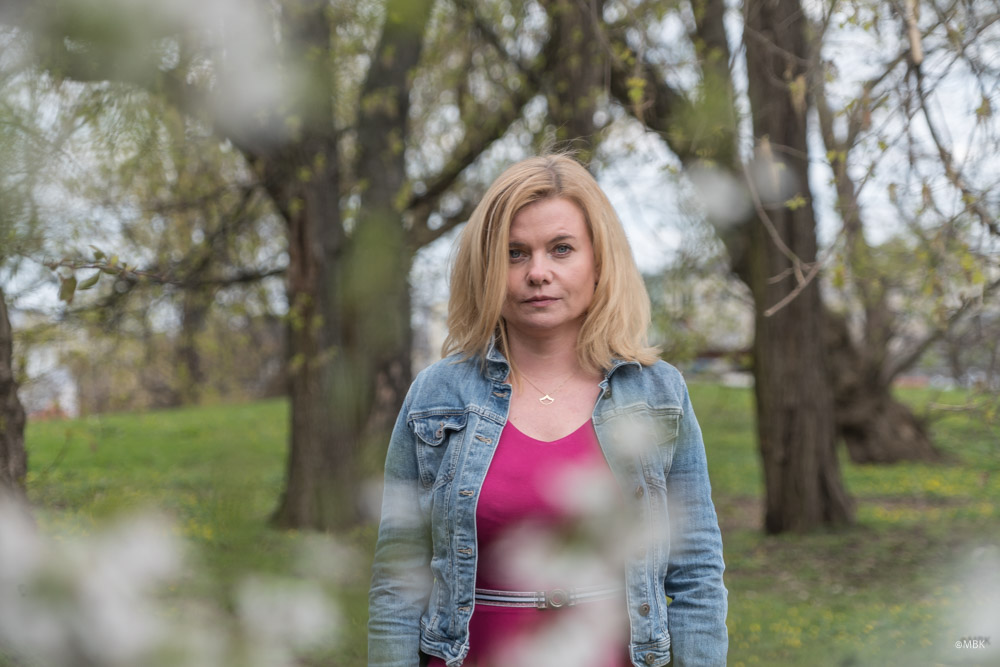 "Councillor Dorota's abortionist nursery" is the title of one of the nastiest videos aimed at destroying the activist's professional reputation. It uses photos of Dorota, her daughter and her friends stolen from her private profile. Dorota is often invited to speak to the media as an expert, so when you type her name into YouTube, the first thing that pops up are clips of factual statements from various TV and online programmes, rather than content produced by internet trolls. Despite this, videos spouting hateful messages are created and circulate the web. The activist has enemies, and they make every effort to "finish off" Dorota, if only financially, pursuing this goal as consistently as the activist pursues hers.
""My nursery was attacked on the Internet, we received insulting comments and messages, my partner and I were called murderers. People were encouraged to write letters criticising us to the board of trustees and the prosecutor's office, negative evaluations of the company were posted online, posters with negative comments and content were pasted on the doors of the nursery, and Facebook posts of parents of children who are in our care were commented on," the activist says.
Fortunately, this did not translate into a decrease in trust towards the nursery. Parents who send their children there know who Dorota is, what she does, what her views are, the staff she employs, and they sympathise with her and her business partner. They are loyal and supportive. As is her business partner.
Because of her activism, she has less time to run her business, which results in decreased revenue: "At critical moments, my business partner takes over all my responsibilities, puts up with the attacks on our nursery and encourages me not to give up."
Activism is extremely stressful at times. It can provoke periodic irritability, brashness, and disproportionate emotional reactions to situations. Dorota knows how to cope with this stress. She has an efficient "support system" in her family, friends and colleagues. The cost of her activist and political activities are borne jointly and often.
""My daughters lost their anonymity, they matured faster and had to become more independent, I didn't have as much time for them as other mothers do. The family has to cope with my anxiety and frequent absence," Dorota says.
The activist is grateful that both of her daughters support her, particularly when it comes to relieving the burden of daily chores: "Family gives strength and mental stamina, but also understanding. We often participate in demonstrations together, and I can count on their help. In the heat of the moment, my daughters and husband take over all my domestic duties. There are weeks when I am only a guest at home, and even when I am home, I sit on my phone and computer."
The activist confirms what often rings true from statements by other female activists and politicians. Activism is a trial by fire for interpersonal relationships. Relationships are strengthened by people who act together or support each other's actions and it weakens ties with those who don't. With time there is a lack of common interest. There is no strength, time or space for meeting up with "non-activists". Only deep ties based on respect and understanding survive.
Dorota is lucky to be surrounded by people who support and love her, regardless of the political conjuncture, regardless of what she decides for herself and which way she goes. Not every Strike activist has this support.
"Friends come when I need them, with wine and tissues to cry on. They go with me to protests, they listen, they tell me I'm great, they support me on social media, some are lawyers so they support me with legal advice," Dorota says appreciatively.
The people who make comments like "Why are you doing this?", "Take a break, slow down!", or "I support you, but you're doing it wrong", Dorota simply cuts herself off. She says it doesn't help. It's not edifying and contributes nothing. Instead it annoys her. She is doing the best that she can and she has already let go of anything she possibly could. But there is no question of withdrawing from activism.
"I don't know how to live differently. I want a better Poland for my daughters and I don't want to live in an oppressive state myself. I do not agree with violence, injustice and human rights violations. I believe that women are the force that will change this country," Dorota says.
Stories by Dominika Kasprowicz. English version edited by Dearbhla Crosse.
Photography by Marta Bogdanowicz.